IT'S not too often you see fans of professional sports team spilling onto the pitch to celebrate victory in a big game.
On Tuesday night, though, Reading FC fans poured jovially onto the pitch at the Madejski Stadium after their 1-0 win over Nottingham Forest secured their return to the Premiership. It was awash with delerious fans as they toasted their success.
Players, fans, management embraced. This is professional soccer, which had seemed to become detached from its fans in recent years.
Pitch invasions used to be all the rage in Gaelic Games, Croke Park's hallowed sod used to be flooded by its people as they celebrated September glory.
"I as much as the next man appreciate and value tradition but not of the variety that endangers life and forces defeated players to sprint from the field of play," said outgoing Association President Christy Cooney at the weekend's Congress, at which he spoke of the recent abolishing of the post-match invasions.
"The post match scenes which have accompanied the last four senior inter-county finals more than vindicated the stance we took – one which was unpopular at times – but the safety and well being of players and supporters and nothing else, was the motivation behind doing what we did."
The scenes after last July's Ulster final will live long in this writer's memory. Too young to really grasp what it had all meant in '92, this was the first 'big' title win for the county in my time. Looking down at St Tiernach's Park's pitch, covered in tearful men, women and children in green and gold was something to behold.
One of the abiding images from the All-Ireland final was of this stable's other Gaelic Games columnist, Declan Bonner, sprawled on the Hogan Stand sideline and having to haul himself up as Tommy Sugrue's final whistle saw Tir Chonaill take over.
"I was laying on the ground and men were jumping off the fence around me everywhere!" Declan remembered this week.
"Sometimes in the 80s, you knew there wasn't long leftwhen you had to beat four or five supporters on your way into a score!
"Wild horses wouldn't have held them back, but it was no harm. On an All-Ireland day or an Ulster final day it's a great scene. It's always great to see those images coming back."
Sometimes, the old ways are hard to beat. Here still sits a fan of the good old fashioned Plan B!
Posted: 1:22 pm April 23, 2012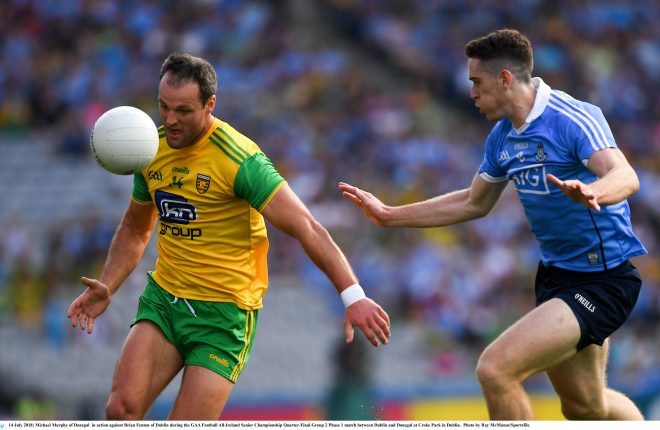 Dublin too strong in Croker.