BY CHRIS MCNULTY
JIMMY Barry Murphy always valued the importance of a good National League campaign.
And with good reason too. JBM won two National Hurling Leagues and one National Football League title as a player, while he guided the Cork hurlers to a NHL crown in 1998 as manager.
His philosophy was simple.
"We try to make a huge effort in the League as we feel the young players need to be exposed to high-profile games against the better teams to find out exactly where we stand in terms of progress," he explained.
"After all, there are only two competitions open to senior inter-county players and all of the best players cherish the National League. It can tell you a lot about your team."
That thought is one that Jim McGuinness would surely subscribe to.
On the surface, the National League campaign just ended might well seem like it was a difficult one with Donegal having lost four of their seven games and only managing to preserve their top-flight status with last Sunday's win over the now relegated Armagh.
To get a true picture, however, you scratch the surface and see that Donegal were without Michael Murphy for three games and a crucial last ten minute spell in another, while Colm McFadden and Neil McGee were missing for two and others were absent too for varying reasons at different junctures.
One man who saw everything in the League from the coal face was Frank McGlynn, the Glenfin corner-back who has become Donegal's Mr Reliable.
McGlynn is one of three players – alongside Paul Durcan and Neil Gallagher – to have started and finished all seven Division 1 games for Donegal.
The Glendowan National School teacher was nominated for an All-Star award in 2011 and has continued his excellent form into 2012.
He's the perfect man to assess how the League was from a Tir Chonaill perspective.
"Overall it was positive," said McGlynn.
"At the start of the League our aim was to retain our spot in Division 1 after working so hard last year to get promoted.
"We achieved that so I suppose it has to go down as being positive.
"We had a lot of new faces and we had Colm and Michael missing for a few games too. A lot of forwards got chances at different times and we were able to try out some new things every day we went out.
"We've learned a lot.
"It's been interesting. We're trying to keep the same things that we did well from last year as well as improving other aspects that we knew needed to get better. We've used the League well in that regard."
Back in the top flight, Donegal played the other three teams who made up the All-Ireland semi-finals alongside them last year – Dublin, Kerry and Mayo – as well as 2010 All-Ireland winners Cork, so it's been a tough campaign, but one that has proved a more than useful exercise.
McGlynn said: "You learn a lot from marking the top forwards in the game. As a player you always relish coming up against them. Hopefully we'll have learned enough that it will stand to us if we happen to meet them again. One or two wee things might stand out that could help."
When you think of Frank McGlynn it's sometimes hard to believe that he's now one of the more experienced men in the side.
A debutant in a McKenna Cup win over St Mary's in January 2006, McGlynn has since played 78 times for Donegal and is now one of the first names on the team-sheet.
He's had to graft hard, but is in a good place right now.
He said: "Yeah, I'm very happy. This time last year it was stop-start for me. It took me a while to break into the team and then I had some hamstring trouble.
"It's always nice to be fit, injury free and playing football. It's nice to have got a run in the team and I'm enjoying it at the minute.
"Jim and Rory don't hold you back and they encourage us to get forward when the chance comes. The way we play, you have no worry going forward because you know that the boys will work hard to get back and cover.
"I play at wing-back for the club and enjoy playing there because you can do both sides of the game from half-back. With Donegal, you can be very involved in attack from the corner because of the way it's played."
McGlynn had a busy year in 2011. He got married to Diane (Toner) in late 2010 and the couple celebrated the birth of their first child in July.
Baby Harry arrived the week before the Ulster final, so can go down as one of Donegal's youngest supporters for the memorable run to the All-Ireland semi-final!
"He's doing great, he's getting to a very enjoyable stage now," Frank said this week.
His football focus is now firmly on the beginning of the defence of the Anglo Celt, which gets underway on May 20th with an away game against Cavan in Breffni Park.
All along, it's what has been in the minds.
McGlynn said: "Cavan has been what we've been planning for since the start of the year. The first round of Ulster is always the target any year; I don't think you can look any further though. The League is over now so we'll take the things we've learned and channel it into Cavan.
"It's unknown territory in a way because we're the holders. There'll be some added pressure, but the job is the same as if you'd gone out in the first round last year: It's all about getting over Cavan and then moving onto the next challenge.
"Cavan has always been the bigger picture. In the McKenna Cup you be gearing to the League but, from then on, it's all about the summer – all the wee things you try out are always with the championship in mind."
Posted: 8:00 pm April 13, 2012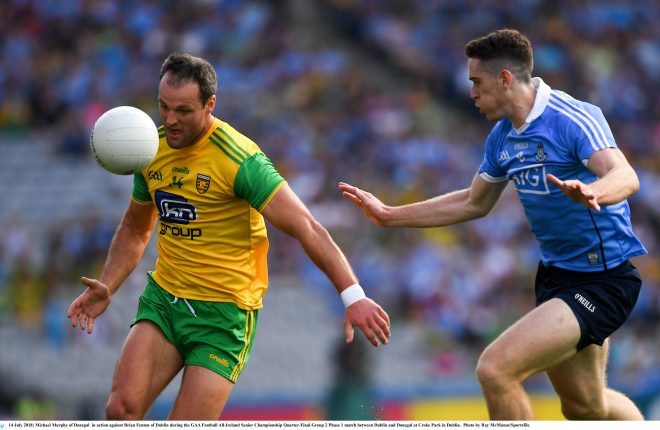 Dublin too strong in Croker.