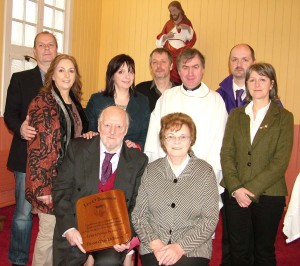 ON Easter Sunday the popular and well-known Leo Brennan called it a day after serving as an organist for the past forty years in St. Patrick's Church, Mín Uí Bhaoill, Gaoth Dobhair.
Leo, who entertained thousands during his time as a member of the "Slieve Foy" showband, was honoured at the end of the 10a.m. Mass in the small Mín Uí Bhaoill church. Present were his wife, Baba,  their  daughters, Máire Brennan, Deirdre and Brídín, and sons, Pól, Barcley and Leon. Other members of the family, Enya, Ciarán and Olive were unable to be present at the presentation.
An Dr. Oirmh. Pádraig Ó Baoighill paid glowing tribute to Leo for the many years he served as organist in the church.  He congratulated him and he wished him long and health life. He presented him with a specially inscribed wooden plaque on behalf of the local community.
A presentation was also made to him by Cití Eoghain Éamoinn McGarvey, who is a member of the church choir. Cití described Leo as a gentleman and a true friend.
Cití who is a neighbour of Leo said he is due a well earned rest from performing on the organ in St. Patrick's Church. At the end of the mass he got a round of applause from the large congregation present at the mass.
Posted: 4:20 pm April 12, 2012