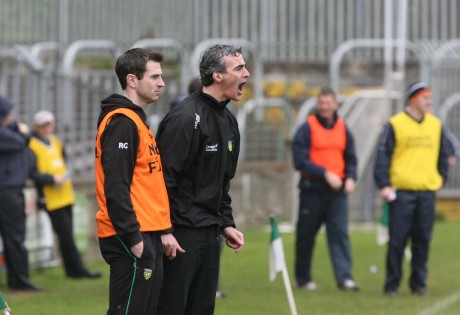 BY CHRIS MCNULTY
The Donegal football squad trained for the first time on Wednesday night since the close of their National Football League campaign and assistant manager Rory Gallagher says that there is the possibility of some new faces being drafted into the set-up in time for the Championship opener with Cavan on May 20th.
Last May, Donegal brought in Eamon McGee and Kevin Rafferty in as late comers to their panel – and by the end of the monumental campaign both had played integral roles at various junctures.
"Anyone who shows up well, we will be willing to give a chance to," Gallagher said.
"We will be monitoring the club leagues very closely and we will also be having in-house games at training, which will be used to look at players.
"Our squad is not closed, it never has been. From that point of view, we'll always be keen to take a look at players who are playing well for their clubs and showing up as possibilities for us, as well as maybe players who are coming back from injuries."
One such player is Barry Dunnion of Four Masters, who has returned to training with the squad having returned from a wretched few years that have been wrecked with injuries.
Dunnion has not yet rejoined the panel, as such, but is being closely assessed by the Donegal management.
"Barry is in to do some training with us and to see how he gets on," Gallagher explained.
"Barry is finding his way back to fitness. He has played a number of challenge games for his club. If he his comfortable enough it will step up for him, but because he has been out for such a long time it is a slow process and we have to be careful with him.
"Barry was one of the top wing half-backs in the game a few years ago, so he definitely has the ability. We'll keep monitoring his progress."
A number of other players will have the rule run over them in challenge games in the coming weeks.
Outside of the in-house games, Donegal have agreed to play a challenge game in Swinford Co Mayo against a Mayo team on May 6th – two weeks before the Cavan game.
Gallagher said that they would like to fit in 'one other' inter-county challenge but for now the management will keep their eyes peeled on the All County League games for possible options.
Donegal are also keeping close tabs on their injured parties. Daniel McLaughlin joined St Michael's team-mate Christy Toye on the treatment table this week when he limped out of St Michael's league game in Kilcar on Monday.
Tomorrow, Saturday, county captain Michael Murphy is due back at the Sports Surgery Clinic in Santry for further assessment on his injured knee. The Glenswilly man picked up the injury to his collateral ligament against Dublin and was still on crutches this week. The player had an explorative scope on the Monday after the Dublin game, but did not require corrective surgery. The player is to have another examination tomorrow in Dublin.
There was good news reported on Leo McLoone, who shipped a heavy hit late in Sunday's win over Armagh. Gallagher confirmed yesterday, Thursday, that the player was expected back in club action this Sunday after suffering heavy hip bruising last weekend.
Posted: 1:00 pm April 13, 2012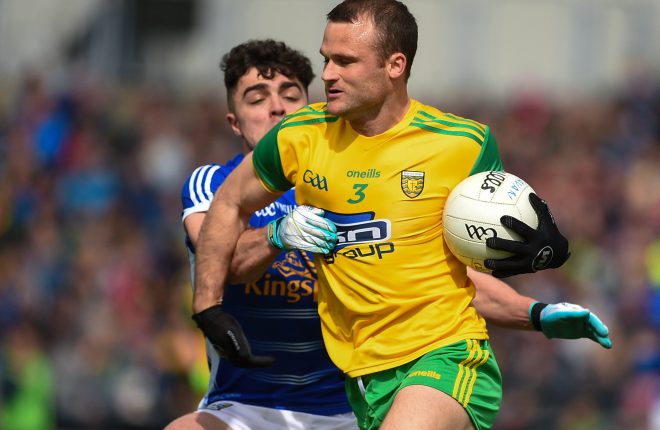 Donegal defeated Cavan by eight points last Sunday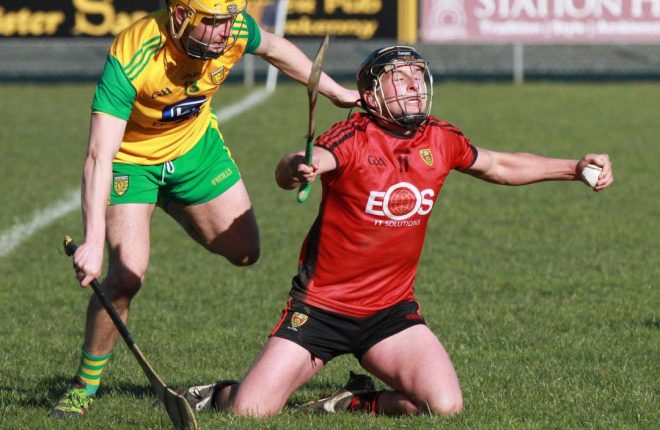 Sean McVeigh has been one of Donegal's most talented and consistent hurlers for the last decade.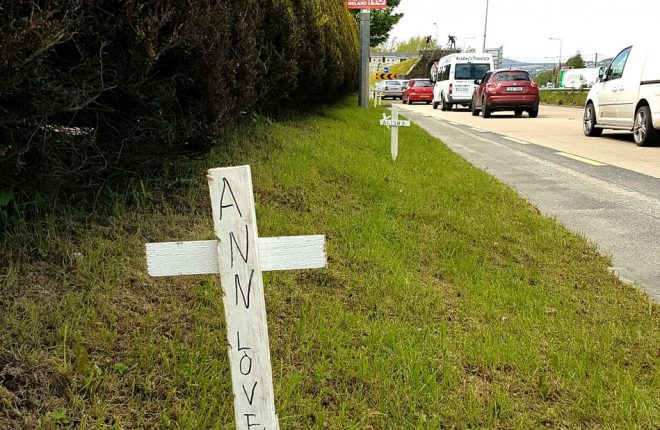 The Referendum on the Eighth Amendment takes place one week from today.