BY AIDAN O'DONNELL
AFTER the emotional rollercoaster of last week's trip to Waterford, Finn Harps will switch their focus to the visit of SD Galway to Finn Park tonight and the prospect of recording a third win on the bounce (kick-off 7.45).
Harps collected their first away win of the season last weekend with a 2-0 victory over promotion hopefuls Waterford United, but it came at a cost.
Goalkeeper Ciaran Gallagher was rushed off to Waterford General Hospital after falling heavily on the turf following a collision with defender Seamus Long.
The game was stopped for twenty-one minutes before the Harps number one was taken away on an ambulance.
Harps were leading 1-0 at the time and shortly after the game resumed they doubled their advantage when Long inadvertently guided the ball into his own net.
Gallagher eventually received stitches to the inside of his mouth and was able to travel home on the team bus, but Harps player-manager Peter Hutton, who started the game at centre-half, admitted it was hard to resume playing when they initially weren't sure if their team-mate was going to be okay.
"There was a lot of mixed emotions," he said. "Obviously, our main concern was Ciaran's health and whether he was going to be okay. We were all very concerned after the incident occurred and although we just had to get on with the game once he was taken away to hospital, I think subconsciously we were all still thinking about Ciaran in the back of our minds.
"But thankfully he was able to travel back up the road with us and he seems to be on the mend, which is a great relief because he took one hell of a battering. The pitch was very hard and heavy and he fell with some force from quite a height."
The win at the RSC last Saturday was the first time in almost eleven years Harps picked up an away win over Waterford. It is also brought an end to two straight defeats in the league, but made it two wins on the trot in all competitions following the win over the Mayo League in the EA Sports Cup.
Hutton added: "The record hasn't been great down there so hopefully the win will give the boys a bit of a spur. They're no mugs, Waterford. They defeated Limerick a few weeks ago and are certainly one of the better teams in the league. They were starting to play well just when Ciaran got injured, so I think that might've halted their momentum somewhat."
Hutton is again likely to figure from the start for the visit of SD Galway, who have yet to taste victory in five games played.
The former Derry City stalwart has helped the team keep two clean-sheets in each of their last two outings and the decorated centre-half admits they needed to put a halt to a series of defensive mistakes.
He said: "We've seen against Wexford that you can't take anything for granted. We've quickly found out that it's the team who makes the fewest mistakes that more often than not wins.
"We were making some avoidable errors in our first few games so hopefully we can continue to nullify those mistakes and at the same time take the chances that come our way."
Hutton, meanwhile, was delighted with the contribution of both Paul Simon Tracey and replacement goalkeeper Shaun Patton in the win last weekend. Patton came off the bench to save a penalty in his competitive debut for the club at the age of 16, while new signing Tracey showed his worth with a goal and an assist. "He's doing well," Hutton said of Tracey.
"He made his debut against Mayo League and then had a good game last weekend down in Waterford where he scored the opener and provided the cross that led to the second. But he's not going to get carried away, he knows it's a step up in standard to what he was playing and that you have to keep trying to improve at this level. He's enjoying his football at the moment, though, and that's the main thing."
He added on Patton: "I thought he equipped himself very well. He took a high ball into the box not long after coming on and I think that did his confidence no harm at all. He also did really well with a one-on-one chance before saving the penalty, which would've felt great for him. And because he's only 16 he's at that age where nothing really fazes you, so hopefully he can continue to do well."
The game against SD Galway this evening is the first of two games over the Easter weekend for Harps, with a second round tie in the EA Sports Cup against Derry City at the Brandywell on Easter Monday next up.
Posted: 10:48 am April 5, 2012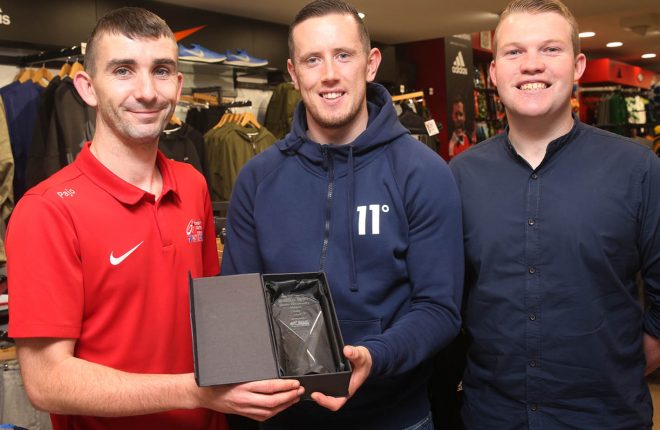 Gallagher was awarded the Donegal News Sports Personality of the Month award for July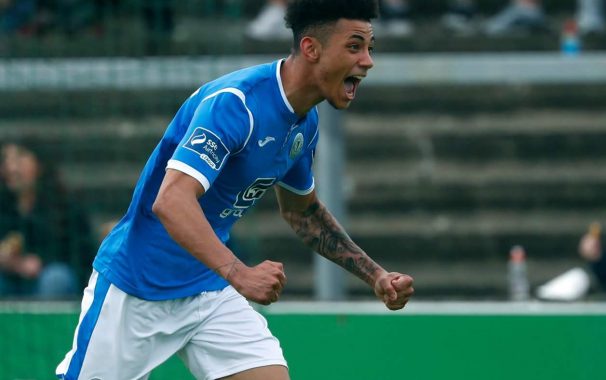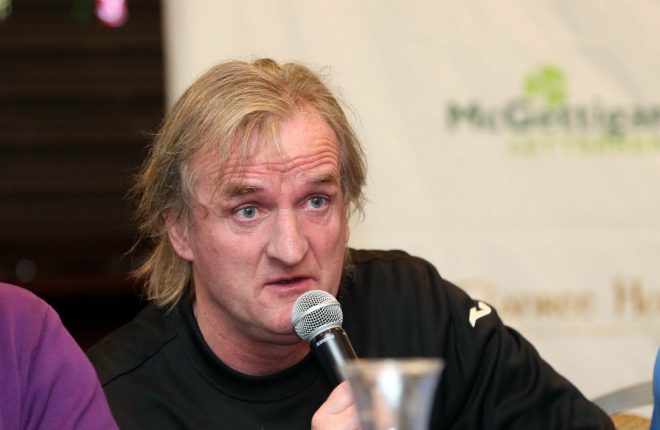 FINN Harps manager Ollie Horgan is wary of Galway United as they make their way to Ballybofey for a...