THIRTY Five days: that is the length of time that Donegal GAA has to raise €100,000, which is to aid in the drawdown of a €250,000 grant from Croke Park for the development of the Donegal Centre of Excellence in Convoy.
TIME was when National Football League results didn't particularly matter.
It seems like an age ago when all that mattered was the Championship. That is still true now alright, but there does seem to be more of an emphasis on League performances and results. Championship is still the only show in town, but it is now a cause of grave concern if counties are showing poor form during the Springtime – just ask John Evans, Val Andrews or Gerry Cooney. Perhaps even take a peek at Seamus McEnaney's last couple of weeks.
Evans (Tipperary), Cooney (Offaly) and Andrews (Cavan) are no longer in management having started the campaign wearing a Bainisteoir bib.
Evans resigned as Tipp boss, when there were no moves from either players or Board, to get rid of him. An inexorable slide to Division 4 led Evans to call it a day, saying he could no longer take the setbacks.
Cooney stepped down after Offaly were relegated to Division 4, following a meeting with the players, while Val Andrews' future was decided when Cavan's players decided that they wanted a new guide.
And last Wednesday night, McEnaney only survived a cull in Meath after the Corduff man was subject to a vote at a heated and tense county committee meeting in Navan, a motion for him to be ousted failing to garner the necessary two thirds majority to force him out.
In the murky multi-million dollar Premiership cross-channel, the 'sack race' is in full swing from the off – and I can't help feeling that the same culture is creeping into Gaelic Games with the heightened pressure that is on teams these days.
WHO? WHERE? WHEN?
YOU'LL notice an absence of a fixture list for the All-County League from this newspaper, and the other leading papers in Donegal this week. To save the switchboard from jamming, there's a perfectly good explanation for their absence which I'll explain: We didn't get any prior to our deadline.
The Donegal News prides itself on its sports coverage – but the GAA in the county is hardly aiding the promotion of its games with the lack of basic information being circulated to the local media.
If we don't know who's playing where, and when, it gets a little difficult for us to give the games the column inches their supporters crave. On the website they may well be, but in a format that isn't transferrable to these pages – and, remember, there are plenty of ardent followers of the games who don't have access to the internet.
This newspaper – and we aren't alone – has experienced great difficulty in receiving information in terms of fixtures and results since the beginning of the League season.
Can any of the papers be faulted if we decide not to preview the next series in the absence of a fixture list?
c.mcnulty@donegalnews.com
Posted: 9:00 am April 28, 2012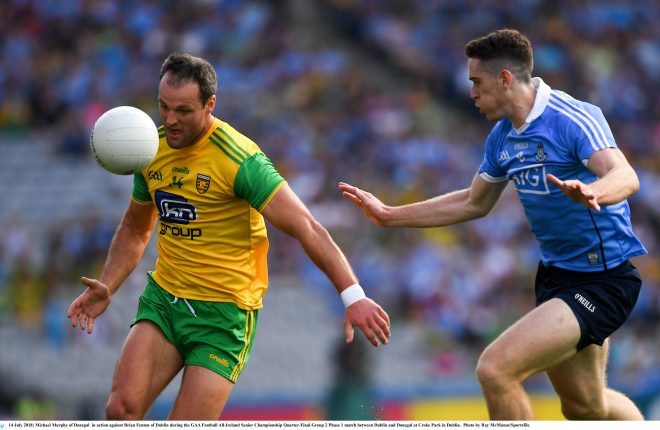 Dublin too strong in Croker.