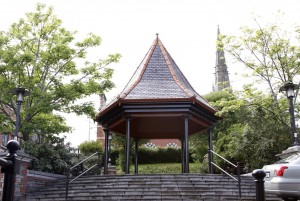 BY CRONAN SCANLON
FOLLOWING the shock closure of one of the oldest businesses on Letterkenny's Main Street, two business people there have called for a combined effort in order to save the heart of the town.
Mary and Pat Bradley have been operating two successful town centre businesses, Pat's on The Square and Pat's Pizza, for the past 29 years and 21 years, respectively.
Now, they are calling on the Town Council, the Chamber, absentee landlords and the remaining business people along the town's main thoroughfare to stand up and be counted.
Speaking on Wednesday, Ms Bradley said something needed to be done urgently to both save and rejuvenate the heart of the town.
"At the end of the day, it's up to the business people left on the Main Street to do something about its decline, but that needs to be done in conjunction with the Town Council.
"It should be about pride and working together on the up-keep of all buildings and the Main Street area in general."
Posted: 3:03 pm April 26, 2012