BY SEÁN P. FEENY
A DONEGAL actress is among the cast of a fresh, imaginative, new Irish musical which is currently receiving standing ovations from audiences at the Abbey Theatre in Dublin.
Ruth McGill is certainly no stranger to the famous Abbey stage having performed there a number of times including in productions of Christ Deliver Us!, and The Cherry Orchard.
The last time we caught up with the Ardara native she was amongst the star-studded cast of Tom Murphy's The Last Days of a Reluctant Tyrant which premiered at the Dublin theatre in 2009.
Since then she has been at the Abbey on a short stint for Christmas 2011 and the production of Freefall staged by The Corn Exchange which also took Ruth to Mexico and saw her nominated for Best Supporting Actress at the annual Irish Times Theatre Awards.
Now back the Abbey she is part of the inspirational new musical Alice In Funderland, the first musical produced at the theatre in over 20 years, playing the role of The Duchess.
Having started rehearsals for the play in February, Ruth said it's great to once again combine her passion for drama and singing in one job.
Alice In Funderland is directed by Wayne Jordan and stars a cast 15, including eight actors making their national stage debuts.
A ThisIsAPopBaby commission it was created by Phillip McMahon and Jennifer Jennings and developed with Raymond Scannell, Wayne Jordan and the company.
The musical is a combination of biting social and sexual satire, contemporary musical numbers, rich language, high design and a philosophy of hope and courage.
Bringing together some of the most exciting rising Irish talent of this generation, the Abbey Theatre presents a modern day fairy tale for a tender and bruised nation.
Ruth said: "There is a lot of humour and wit in this musical as Alice makes her way from Cork to Dublin where she ventures into the Northside and bumps into my character, The Duchess, who has done every illegal substance under the sun and is a little crazy," she laughed.
Resolutely set in an alternative here and now with its inherent darkness and uncertainty, Alice In Funderland was born out of a desire to shake up the landscape of musical theatre in Ireland.
Inspired by both Lewis Carroll's Alice's Adventures in Wonderland and the cadence and rhythm of Irish city life, the musical tackles the tumultuous themes of love, change, identity and humanity, through the prisms of electro and pop, in order to examine the true values and aspirations at the heart of our society.
Unlucky in love, Corkonian Alice is all set for her sister's wedding when a chance encounter with delivery boy Warren sends her spiralling through the Dublin night.
In an epic pursuit for meaning on the strangest night of her life, Alice tumbles through the broken city, bombarded by grinning politicians, pyjama-clad bowsies, egg heads on the edge, twisted scissor sisters, and Delores – The Queen of Hartstown.
"There is a quite a few actors that worked on Macbecks with me so it's nice to be working with old friends. The play is so clever and it;s such a funny adaptation and it even manages to throw in a couple of lines from the original book at some very funny moments.
"It really captures the Ireland we are living in today, it's uplifting and there's a very positice message to the story in the end, said Ruth.
A graduate from the Professional Acting Programme at the Samuel Beckett Centre, Trinity College Dublin, Ruth has gone on to a very successful acting career. Her extensive list of theatrical credits include Freefall and Cat on a Hot Tin Roof (The Corn Exchange), Macbecks (Olympia Theatre), Sweeney Todd (Gate Theatre) and The Shaughraun (Albery Theatre, London).
A trained soprano Ruth has co-devised and performed three cabaret shows with her company and has also worked in film and television including Love/Hate, The Clinic (RTÉ) and Leap Year (Spyglass Entertainment). Ruth also sings with the trio Married To Music (www.marriedtomusic.weebly.com) with Ruth Smith and Helena Walsh who provide their talents for weddings, funerals and corporate occasions.
Ruth said she has already had visitors from her native Ardara come to see her in Alice In Funderland.
"One of my friends absolutely adored it and I'd encourage anyone from back home to come down to see the musical as it's an incredibly funny and witty show that you'll love."
Books and lyrics are by Phillip McMahon who worked on the script for four years, the composer is Raymond Scannell, choreography is by Liz Roche, set and costume design by Naomi Wilkinson, video design by Jack Phelan, lighting design by Sinéad McKenna, musical director is Ivan McKenna, musical supervision is by David Hayes, sound design is by Carl Kennedy and the sound engineer is Terry Heron.
Fiach Mac Conghail, Director of the Abbey Theatre said: "Alice In Funderland is a soulful response to a changing society from a new generation of engaged theatre artists.
"This musical is connected, immediate, clever and beautiful. I am delighted to present this fresh and imaginative new Irish musical on the stage of the national theatre."
The development was supported by the Arts Council, the Abbey Theatre, Dublin City Council and Project Arts Centre. Ruth will be performing, until May 12, in what has been heralded as the most anticipated theatrical production of 2012, Alice In Funderland.
Booking and further information on abbeytheatre.ie and Tel (01) 87 87 222. Monday – Saturday evening 7.30pm, Saturday matinees 2pm. Tickets: €13 – €40.
Posted: 1:24 pm April 29, 2012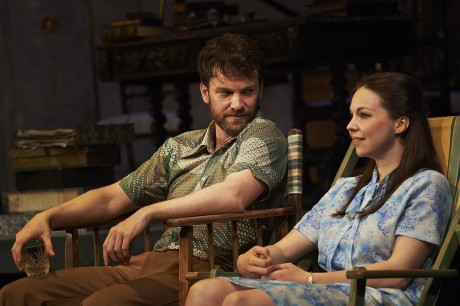 WITH Brian Friel's Aristocrats opening at The Abbey Theatre in Dublin last weekend, we caught up with the two...