BY CHRIS MCNULTY
MICKEY Whelan was as fascinated as anyone by the 2011 All-Ireland semi-final between Donegal and Dublin – but the former Dublin selector believes Donegal deserve credit not criticism for the tactics they employed on that August Sunday.
Donegal people dared to dream of a September date with Kerry when they led by two points at half-time. When a Colm McFadden effort at goal whistled just over the crossbar early in the second-half, there appeared a resignation to defeat by the Jacks: the Hill fell silent and an uneasiness swept across Jones' Road's Colosseum of Gaelic Games as momentum filled the Tir Chonaill sails.
Gradually, though, the game slipped from Donegal's grasp and a combination of an injury to Karl Lacey and a red card to Diarmuid Connolly that seemed to galvanise the blues ensured heartbreak for Jim McGuinness and company.
Dublin went onto win the All-Ireland, with a dramatic win over Kerry as Donegal folk peered on with an envy that wondered a regretful 'what if?'
That semi-final with Donegal was an acid test for a Dublin team that had swept Croke Park's polished green floor with Tyrone in a quarter-final. 22 points they posted that afternoon, but against Donegal's defensive labyrinth they very nearly came unstuck.
Whelan was riding shotgun as Pat Gilroy's right-hand man last year.
The 72-year old St Vincent's legend is one of the true Dubs, raised on songs and stories in the rare auld times, and brought up treasuring the values of the game from a club that gave the game the great Kevin Heffernan.
Donegal's system might have been seen as an ill in the game in 2011, but Whelan believes Jim McGuinness should be applauded for what he achieved last year with a side that had previously been shorn of its confidence following year after year of knock backs.
He said: "Jim deserves credit, of course he does. What is the point in begrudging somebody something if it works with what they have and with the game plan they have prepared so well?
"This game plan he has suits their team and by any stretch the performances were justified. To be honest they weren't within an ass's roar of us.
"In terms of Donegal most of what Jim did was justified. They won three All-Stars last year and even that was a contradiction as it was three defenders who got the awards.
" In football, you have to maximize what you have and Jim accomplished a lot with Donegal last year.
"They won the Ulster Championship and they won promotion: and they won it playing to a game plan."
Donegal's epic jaunt to the last four took everyone by surprise last year, but Whelan wasn't too surprise that the Tir Chonaill train hurtled very close to the big day on September's third Sunday.
He said: "A lot of people said that Donegal came in under the radar last year, but I didn't agree at all.
"Winning the Ulster Championship alone was always a flag and Donegal played well during their Ulster campaign.
"Papers and media always need something to jump onto and write about, but everyone needs to write their own script – and Donegal did exactly that last year."
The now retired Whelan believes Donegal should be 'more expansive' this time around. A regular visitor around the corridors of DCU, where he is the President of the GAA club, Whelan is all-too aware of the influence one student of the Glasnevin college on Donegal football – and his stationing out the field was a big factor last August in his eyes.
"I can tell you, we were happy to see Michael Murphy out the field!" Whelan said.
"He is involved at DCU and I meet Michael on a regular basis. He's a lovely young lad and what a player he is for Donegal."
Whelan won All-Irelands with Dublin as a player in 1958 and 1963, with Leinster titles bagged in 1962, 1963 and 1965 and a League title won in 1953.
In September, the glory days returned to the capital as a 16-year famine was ended with their final win over Kerry, a day that drew an end to Whelan's association with the Dubs.
"It was a nice way to finish up," he remembered this week.
"It was tough, but sure aren't all All-Ireland's tough campaign? That's why people enjoy them.
"The final was great. We were never out of the game though, that was the big thing from a Dublin perspective. At now stage did we look out of it, even though it probably seemed that way to a lot of people. We finished strongly and I think we deserved the win.
"It was a grear final. Everyone remembers Stephen Cluxton's great free with the last kick of the game, but the goal (by Kevin McManamon) that turned the game was equally important. It might have been forgotten by a lot of people in the euphoria of it all, but that was the crucial score of the game I think
"Kevin had a massive impact last year. He is a fine player and has been unlucky I feel not to have got more game time. He is a player who always gives everything."
Whelan, who managed St Vincent's to an All-Ireland club title in 2008, announced his intention to step away in November.
His place has been taken by Ian Robertson, who joins David Hickey and Paddy O'Donoghue as selectors to Pat Gilroy.
"There are times to go and times to hold on, but I am 72 now and it was time for me to move on," he said.
He explains that he hasn't seen 'too much' of Dublin since his departure 'as he doesn't 'want to be seen to be hovering over things.'
The modern game is a demanding one – but that was a side of it the wily Whelan relished.
He said: "Look, that is what you get into. It is elite football and elite competition.
"You have to expect that it will be demanding and you have to expect that it will take up a lot of time and will come with pressure.
"As the fella says 'if you can't stand the heat then get out of the kitchen'."
The Dubs suffered defeat on Sunday against Down in Newry, but Whelan urges caution around basing an opinion on League form.
"It's difficult to gauge anything in League football. Players are always missing during the League, you have injuries and one or two will be taking a break so you don't really get a true picture of where teams are at in that case."
And he warns that the future of the metropolitans is bright.
"The Dublin team is a very young team, but it is physically very strong, it is competent and they are all good, confident athletes.
"There is a good future there in Dublin I feel. The minor team last year was unfortunate, they could just as easily have won their final, but Tipperary deserved their win.
"The thing about that level is that at underage football a defeat can seem like the end of the world, when in actual fact there is actually a future statement of intent in there – as was the case with the Dublin minors.
"Two years ago Dublin beat Donegal in the U21 final. I was at that final and it was close enough too.
"We had a few of those players in the senior set-up at the time, the likes of Robbie McCarthy and those lads and I see last week that Johnny Cooper, who was captain of that Dublin team, played the whole game last Sunday too.
"There are a lot of good, young players coming through in Dublin – these are exciting times."
As the sun sets over Croke Park tomorrow night and the lights shine on the capital's greatest theatre as the Dubs run out for a League clash with Donegal, Mickey Whelan mightn't be there in person – but he won't be far away.
After all, he lives just around the corner in Marino and his fingerprints are still all over the Dubs from his three years as a selector.
Posted: 8:39 pm March 23, 2012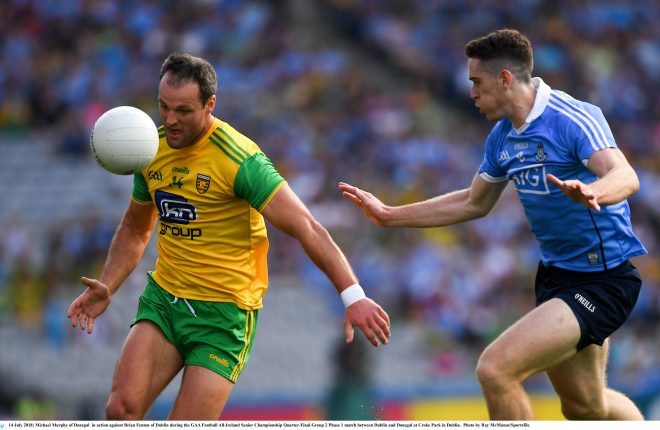 Dublin too strong in Croker.