BY CHRIS MCNULTY
A WEEK might be a long time in politics, but as Donegal showed on Sunday it can be an age in football too.
Just seven days after being on the end of an eleven-point hiding against Kerry in Killarney, Donegal turned the tables on Mayo with a convincing seven-point win and a sound performance to go with it.
The win over the Connacht champions, who looked but a pale shadow of the Mayo we'd expected, was quite timely and the significance was certainly not lost on Jim McGuinness.
Although he's been insisting that the League isn't a priority for his charges, McGuinness doesn't want to be relegated – and this 0-17 to 1-7 win gives them a chance of beating the drop.
"It was a brave learning curve for us down in Kerry, but today we took the thing by the scruff of the neck," said the Tir Chonaill chief after the win.
"For us, it was about getting back to basics and getting a performance, which we got today.
"The last day we stood back and watched a very good Kerry team playing. As I said last weekend, we weren't the first team that did that and had to pay a price.
"Every day is a schoolday and you're learning all the time though.
"The boys will have learned a lot from the Kerry game. I don't think today's performance was based on that, but it was about trying to get our own performance right and it was encouraging in the second-half."
In the second-half, Mayo completely lost their way and managed just two late points – which both came in the last couple of minutes – which Donegal tagged on eleven points in an industrious half-an-hour.
With Rory Kavanagh shown a straight red card after a clash with Kevin McLoughlin in the last act of the first-half, at a stage when Mayo led by two points (1-5 to 0-6), the signs weren't good for Donegal at the changeover.
Their reaction, however, was the most pleasing aspect of the afternoon for McGuinness.
He said: "We didn't go within ourselves and everyone tried to get up the field. The full-back line linked up very well, I though Paddy McGrath and Frank McGlynn played very well today and Eamon McGee too.
"It was nice to see Tony (Thompson), Leo (McLoone) and Karl (Lacey) going up the field with a wee bit more intention and purpose. Leo got a very good score and set up a lot of stuff, so that was encouraging."
Kavanagh's sending off meant Donegal were forced to an interval rejig with Martin McElhinney introduced for his first game since injury an ankle in Donegal's opening game in Newry.
McGuinness said: "It's nice to get him back into the squad and playing again. Hopefully he can improve as the weeks go on. He has more of an offensive mind than a defensive one.
"You always think that if he can get possession that he can make things happen. We'd like to get more out of him defensively at times, but he definitely has a dynamic movement about it.
"It's a very short run-in for us now – we've got Cavan ten weeks from today. For him, that isn't a long time to build fitness and the fear in these situations is that you're conditioning isn't 100 per cent and you could end up pulling something."
Although the Championship remains the ultimate focus, McGuinness still wants his side to preserve their Division 1 status.
He said: "We are in this situation now and we'll have to deal with it. I have always said that we want to go out every day and win.
"Our priority for the League and what we're doing and how we're going about it is not based on the League. Our preparations are based on the Championship.
"Even last week, we just trained one night and we'll do the same this week to try and freshen them up because there will be an awful lot of work to be done when the League is wrapped up.
"It's about seeing it out now and hopefully we can get enough points to stay in the Divison."
Posted: 1:47 pm March 20, 2012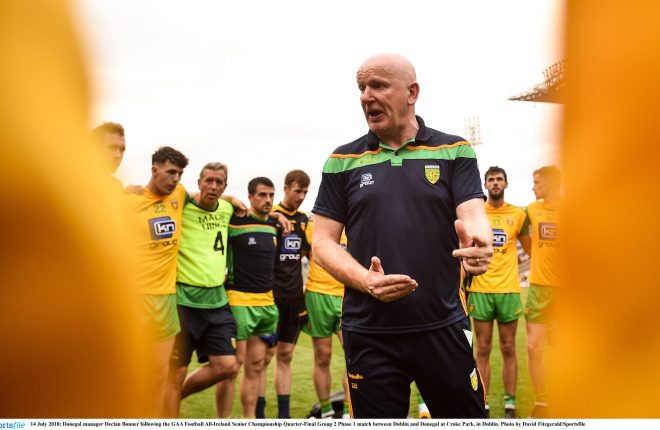 Donegal face Roscommon in Dr Hyde Park on Saturday at 5pm.