FINN HARPS 0 WEXFORD YOUTHS 1
BY CRONAN SCANLON AT FINN PARK 
FINN Harps manager Felix Healy again blamed his side's youthful inexperience for their third defeat in their fourth game of the First Division when they went down to Wexford Youths in Finn Park on Saturday night.
The Derry man was referring to a ball watching incident in the 40th minute which resulted in the visitors taking the lead against the run of play and a clumsy Thomas McMonagle tackle which resulted in a penalty two minutes from time.
Luckily, Wexford captain Shane Dempsey's spot-kick was saved by Ciaran Gallagher in the Harps goal.
However, Wexford's goal came in the 40th minute of a rather uneventful first-half, and completely against the run of play.
Following a throw-in, a surprised looking Tom Elmes found himself free on the edge of the six yard box and with plenty of time, and plenty Harps players standing idly by, he shot low past the helpless Gallager.
"Tonight we had enough chances and enough opportunities to score five or six goals, but we did not take them and that's football. We also went to sleep at a thrown-in and that cost us the match," said a frustrated Healy afterwards.
"But that has been a problem for us in all our games so far and we do have a very young side, particularly across the back four. We just switched off at the throw-in and made it far, far too easy for them to score," added.
However, Healy admitted, it proved to be the kick up the backside the home side needed. Harps immediately piled on the pressure and two minutes later, a heavy tackle by Jamie Carr on Adam Clarke resulted in a free on the edge of the box.
Kevin McHugh stepped up and his well-taken free was destined for the top corner of the Wexford net.
However, Graham Doyle made and incredible leap and spectacularly tipped McHugh's effort over the bar for a corner and preserved his side's lead as the sides left the pitch for the half-time break.
Healy said that both the result against Athlone Town the previous week and Saturday night's result were "not fair" and that, again, his side were "hard done by".
He also admitted Harps did not have an adequate physical presence at the back and this was all too evident throughout the park on Saturday night as, time after time, players on the home team seem to tumble far too easily as a result of innocuous looking tackles.
Harps are also lacking some height at the front, he added.
Healy said they were forced to change the starting line-up as late as an hour before the kick-off as a result of "issues beyond our control".
However, Healy said, he did not despair at the fact that Harps were not in a healthy enough financial position to go out and buy new players. He did say, though, that Harps young players need to learn to become more cunning and ruthless, and learn it fast.
"'I do not despair, we played four games and only won one of them, even though we were probably the better side in all four of those games," he stressed.
"But, you don't get anything for being the better side. It about not letting the opposition take advantage of throw-ins and not letting them play in certain areas. However, when you have young fellas like we have, they seem to think its all about playing but that's not the meat and veg' of it."
Healy was full of praise for Harps two best players on the night, the returned Shaun 'Wizard' McGowan and the ever reliable Thomas McBride. He also lamented the loss of the influential injured centre back Keith Cowen who might not return until the middle of May.
Cowen's presence was sorely missed on Saturday night and his replacement, McMonagle, was exposed on countless occasions on what will be a forgetful night for him.
Among the numerous scoring chances for the home side, Aaron O'Hagan should have converted from a delightful McBride cross, however, he sent his header highh over the bar.
Adam Clarke also came close with a back post header and Kevin McHugh shot across the goals, however, there was no one in the box to turn the ball home.
HARPS v MAYO TONIGHT
Looking forward to tonight's clash with Mayo in the Leage Cup, Healy said he will start with a somewhat experimental side including a number of players who sat out Saturday night's defeat as well as a number of members of Harp's promising U-19s. Kick-off at Finn Park is 7.45pm.
Finn Harps: Ciaran Gallagher, Thomas Bonner, Aran Coll, Aaron O'Hagan, Thomas McMonagle, Hugh Carlin, Adam Clarke, Thomas McBride, Ciaran Greene, Kevin McHugh, Shaun McGowan. Sub: James Doherty for Carlin (50 minutes).
Wexford Youths: Graham Doyle, Brian Nolan, James Dermody, Jamie Carr, CJ Browne, Shane Dempsey, Aidan Keenan, John Yeats, Shane Nolan, Tom Elmes and Dean Broaders. Subs: James Sallon for Browne (64 mins); Paul Malone for Yeats (65 mins).
Referee: Conor Fitzgerald
Posted: 1:27 pm March 26, 2012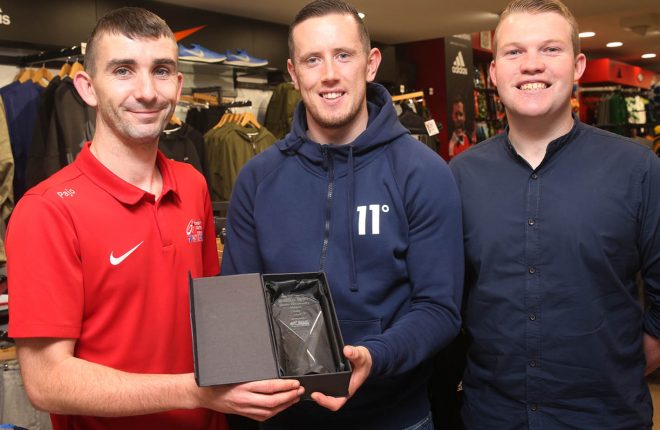 Gallagher was awarded the Donegal News Sports Personality of the Month award for July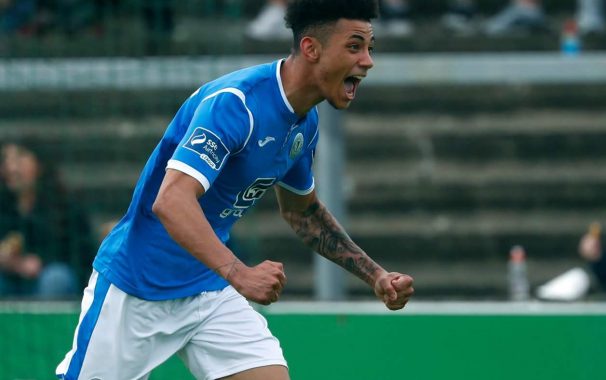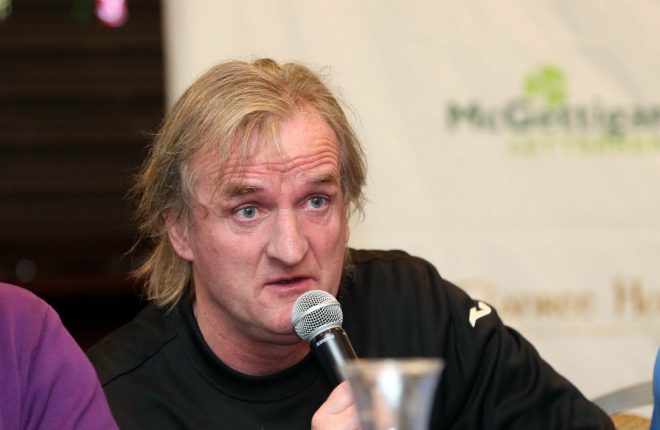 FINN Harps manager Ollie Horgan is wary of Galway United as they make their way to Ballybofey for a...