BY CHRIS MCNULTY
NEIL Fitzhenry admits that he knew little about the League of Ireland, let alone Finn Harps, when he arrived in Donegal in September 2000.
The Englishman signed for Harps after a troubled time at Chester City. A frustrating period at Chester had wages coming sporadically and the club's financial plight meant that bouncing cheques were a regular occurrence.
Not long into his time at Finn Park, the financial hammer fell on Navenny Street, too, but Fitzhenry recalls with great affection his time at Harps. It's almost ten years since Fitzhenry donned the Harps blue for the 62nd, and last time in the ill-fated play-off meeting with Longford Town at Finn Park in April 2002. Tom Mohan's penalty, saved by Stephen O'Brien in sudden death, is an image that still casts a haunting shadow over the Town End goals at Finn Park.
A year earlier, Longford condemned Harps to relegation with a dramatic 2-1 win. A late Niall Bonner goal in that very same net that Harps would fall a year later looked to have rescued Harps as word filtered around Finn Park that Galway had drawn level against UCD. They hadn't and Fitzhenry and Harps went down.
'Fitzy' departed after that play-off game, but has stayed in touch. He keeps close contact with club physio Mickey McGlynn. The two are in the same line of work now.
"When I returned to England, I studied Physiotherapy in Newcastle for three years," says Fitzhenry, who can be spotted regularly these days on Sky Sports as the first-team physio to the Northampton Saints. Indeed, he was the man with the magic sponge in last year's Heineken Cup final, in which Leinster beat the Saints at the Millenium Stadium.
"During this period and until a couple of years ago I continued to play football semi-professionally at Leigh, Southport and Burscough.
"I managed to win two league titles and four cup competitions, but the football became less important when I was offered a job as Youth/Reserve team physio at Wigan Athletic."
The wheel had come full circle. Fitzhenry was back home again. It was the club he had started off at, back at his beloved home town club and he describes as 'fantastic' the three and a half years he spent at the Latics underneath Paul Jewell, Chris Hutchings, Steve Bruce and, for a short period, Roberto Martinez.
While home was where the heart was, things didn't work out for Neil at Wigan.
He says: "Unfortunately there was not a real drive at the club to invest in the youth set-up, as it was just solely geared around staying in the premier league because of the financial implications. I found this frustrating and became a little disillusioned."
With that he turned to the oval ball game and he's been the physio at Franklin's Garden with the Saints for the last two and a half years.
"I knew absolutely nothing about the game before I joined," he admits, "but absolutely love it now. I've been here for two and a half years and we have been really successful. We were beaten in the Heineken Cup Final by Leinster last year in front of 80,000 people at the Millenium Stadium in Cardiff which was an amazing experience.
"We have a host of internationals, but the mentality is completely different from the football with there being no room for any prima donnas!"
Neil started off at Wigan Athletic before signing for Chester City. The opportunity to sign for Harps came out of the blue, but was the perfect escape token from a difficult time.
He says: "I spoke with Gerry Cassidy who was an agent at the time, and the opportunity to play in Ireland came up and I jumped at the chance due to the uncertainty. Little did I know that I was walking into a similar situation!
"I did not really know anything about the League of Ireland. I was just desperate to play as I had had a terrible time with injuries the previous 2 years, and was fed up with all the uncertainty at Chester.
"The standard of the league was similar to the level I was playing in England. I'd compare it to the Conference or League 2 in my opinion. There were very good teams and some very good players."
He had barely settled in Ballybofey a month when the bombshell dropped. After players wages weren't honoured, the Chairman of the time Martin Hannigan publicly declared the club in debt to the tune of £356,000. The club was close to the brink and a meeting in the Villa Rose was attended by 200 supporters.
Costs were cut with Eamon Sheridan and Swedish striker Kemal Avidu released. Manager Gavin Dykes resigned that January, his assistant Mark Kelly – the former Ireland international – went too and Jonathan Speak took over.
Fitzhenry says: "The financial plight was something I found difficult, as it was something that I'd moved to get away from after my time at Chester.
"I'd also come over as a professional and it was my only source of income which was worrying. It was something that I was not expecting, as when I was signing people were very positive about the direction the club was going in, then within about 6 weeks everything seemed to change and people were leaving and some were not being paid.
"However in defence of the people in charge at the time I was always paid even if a little sporadic at times, and I appreciate that a lot of people worked exceptionally hard to make this happen. To be honest this made me want to do well even more as I wanted to justify all the hard work that people were undertaking on my behalf."
The popular Englishman was a fans' favourite in Ballybofey, the refrain 'Fitzy for England!' was a regular chorus among the blue and white army, who loved the combative nature of the centre-back cum centre-midfielder.
"Relegation was just awful, probably the lowest point I have experienced as a footballer," he says of that hurtful May Sunday in 2001.
"We unfortunately had a poor start and left ourselves too much to do, and despite a fantastic run at the end of the season we fell just short.
"I feel if we had stayed up that season, and kept that team together we would have more than held our own. We probably were just lacking a few leaders, but there was a lot of talent in that squad particularly Jonathan Minnock and Paddy McGrenaghan."
Fitzhenry remained loyal to the club for the following season. Fergal Harkin, Jonathan Minnock, Don Tierney and Gareth Downey all departed during that closed season. Gareth Gorman, Shane Sweeney and Brendan Devenney were among those signed, while the retention of Fitzhenry, Tom Mohan and Johnny Kenny was a real coup.
"The following season went well considering we lost some of our better players," says Fitzhenry.
"We were fortunate that Kevin McHugh was coming of age and established himself as one of the best strikers in the country. The signing of Declan Boyle was a masterstroke by Speaky, allowing myself to move into midfield and we really had a strong looking team through the middle."
That season gave Harps some really memorable nights. There was an epic Cup win over Shelbourne at Finn Park, as well as three 3-3 draws during the season, a 1-1 Cup draw in the cauldron of Oriel Park and then there was that harrowing play-off defeat. Harps had lost the away leg in Flancare Park 1-0, the tie delicately poised before a white hot Finn Park heat.
"I remember hitting the bar with a header early on and I think we were unfortunate over the two legs as I felt we were the better team," Fitzhenry recalls.
"I think it was Levine who scored an absolute screamer from nowhere to put them in the driving seat and then we were chasing the game and fell further behind. Speaky came on and was fantastic as was Kevin McHugh, as he had been all season. Kevin scored a brilliant hat-trick we managed to pull the tie back around and then it was penalties.
"I had gone off and couldn't take one which I was gutted about, and then it was just a lottery. Unfortunately Tom was the player to miss, which was very unjust as he is probably the nicest man to have ever played football, and was a fantastic player for the club. It was not the best way for me to play my last game for the club.
"I was distraught after that game. I really wanted to help the club get back up as I felt at least I could leave the club where they had been when I came."
His time might well have ended in tears, but a smile lights the affable Englishman's face as he talks of his fondness for all things Harps.
"I loved my time at the club," he says.
"I had come to the club after virtually two years of being injured on and off, so it was great to get a good run of games. I also thrived on being one of the more experienced players in terms of football experience rather than age – I was still only 22 at time.
"The players and staff at the club were brilliant to me in terms of making me feel welcome, and the local community were so friendly and supportive that I really enjoyed living in the area also. I look back on my two years there very fondly.
"I'm till in touch with few of the players from time-to-time, and I speak with Mickey McGlynn quite regularly, often picking each others brains on some injuries.
"I managed to get to a match against UCD a few years ago as a friend of mine lives in Dublin, and it was great to catch up with a few of the boys."
Fitzhenry also lined out for the Harps Legends in a game against Manchester United Legends in 2009. "That was a great weekend, great to meet and see so many old and friendly faces."
Neil is now living with his partner Rozlyn and their three-year old son Dylan in a village between Northampton and Cambridge.
Neil Fitzhenry played 62 times for Finn Harps, starting 61 of those, while he netted two goals for the club – the first in a 3-1 win at home to Athlone in December 2001 and the other in a 3-3 thriller with Kilkenny City in March 2002.
Posted: 10:29 pm February 17, 2012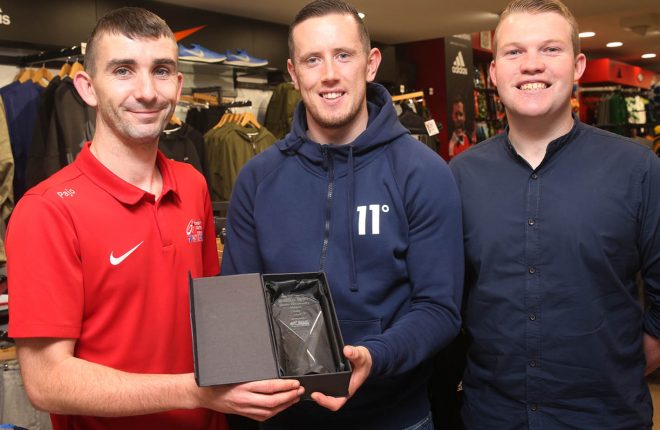 Gallagher was awarded the Donegal News Sports Personality of the Month award for July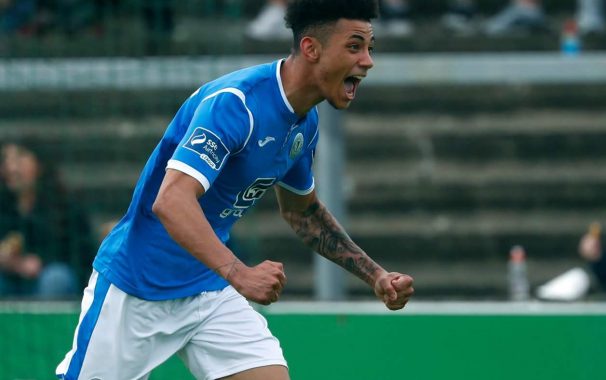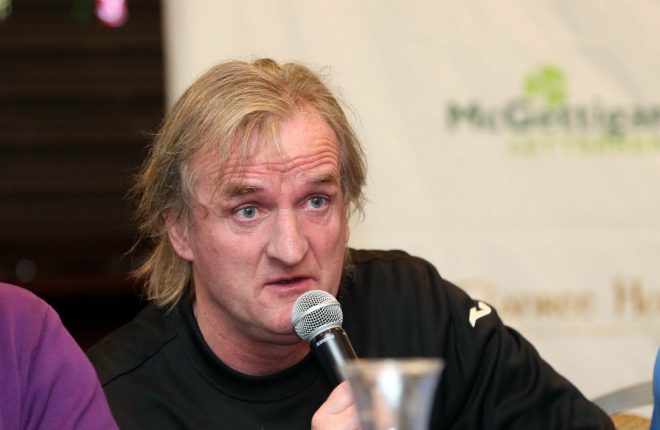 FINN Harps manager Ollie Horgan is wary of Galway United as they make their way to Ballybofey for a...